Alongside was a limited-run "Gran Reserva." This one was distilled 21 years ago, made from exotic ingredients, and was at a whopping 3,900 CZK - three times the Ancient's price. Now while I'm not an erudite, cultured connoisseur of fine wine and spirits alike, I'm absolutely certain there's no way a three-hundred plus dollar bottle of Glenfiddich is going to provide three times the level of enjoyment just because it costs three times the lesser chug of malt.
And so that leads me to the Honda Civic Mugen RR. There are only 300 examples to go around (this one's the 119th), without a doubt making it the most sought after of Civics on planet Earth.
It comes only in Honda's exquisite "Milan Red," garnished with bits of carbon fibre on the spoilers, front grille and engine cover. There are two separate exhaust pipes instead of one, and a rear-fog light between them, reminiscent of blinking red wet-weather LEDs found at the back of Formula One machines. The black 18-inch wheels are engraved with that distinctive double-R logo, and the Bridgestone Potenza RE070s specially designed (88Y, 205/40 profile).
On the inside, everything's a sea of angry, Type-R red, from the carpets to the door and seat wing fabric. Surprise, surprise - there's no radio. Filling one out of two DIN slots are gauges that monitor coolant temperature, as well as measure the heat and pressure of the engine oil. The standard Type-R buckets were ditched for carbon fibre-backed ones that force you to be in good shape to fit and tolerate them. Remember, we're not talking about comfort. Even the pedals were modified with rough aluminium surfaces, while the shifter looked noticeably shorter
MECHANICS
Improvements come from a ram-air intake, a larger carbon fibre air-box, new intake and exhaust camshafts, stiffened valve springs, and a less restrictive, twin-pipe exhaust comprising a 4-2-1 extractor and high-flow catalyst.
On paper, this revised, 1,998cc K20A reads in at 240 hp at 8,000 rpm, which is admittedly little when compared to the standard Type-R's 225 hp at 8,000 rpm. Even torque figures take a meagre 3 Nm hike, as compared to the JDM Civic's 215 Nm at 6,100 rpm. In the weight department, the RR weighs 15 kg lighter, which again is a negligible amount on a day-to-day basis.
Then again, who said anything about day-to-day? By now, you should be pretty familiar with the driving characteristics of the standard Japanese domestic market, FD2 Type-R. It's a hard-edged, high-revving machine that was designed to be an all-out "fast-through-corners" weapon of choice for track-day enthusiasts. It's relatively docile below 6,000 rpm. Go above that, and the engine screams and wails like a hell-bound banshee on the loose, leaving behind that trademark, K20A aural signature. It's quick too, with the 100 km/h sprint reportedly dispatched as fast as 6.5 seconds on the G-TECH scale. And that was without a proper launch and sloth-like slow gear shifts
You should also be pretty familiar with the "tuning plight" of high-revving, naturally-aspirated, front-wheel driven cars. It's not about how much power you can get out of it, but how the car handles and delivers that power as a whole.
Driving Impressions
The first judgments arrive before you push the big red start button on the Mugen RR. Despite the different seats, both cars share the same driving position. We're not sure if all that extra red affected our driving enthusiasm, but we were definitely taken in by its shift and pedal action. Both are shorter, better weighted and much more precise.
The RR's pedals were profiled to provide an adhesive, high-level of friction, and for good reason. Our feet stayed on all three when it mattered most - during heel-and-toe downshifts in corners with an excess of 1G!
Almost, that is. In a straight line, the Mugen edges away from the standard Type-R to 100 km/h by nearly three-quarters of a car's length. That's not a lot, but it's an important trait brought around by the car's revised power band. The surge of power comes in earlier from around 5,300 rpm, and it pulls much harder, all the way to it's 8,500 rpm redline, so much so that we felt the slight, occasional torque-steer.
Coupled with semi-slicks, a limited-slip differential (same as on the standard Type-R) short-shifter and a more accessible power band, it's easy to see how the RR's vastly effective set of tools help when thrown into a seemingly unending set of corners. This is where that white Civic will start clutching at straws just to keep on its tail.
Road-test portal Edmunds Inside Line reported a lap time of 1:29.3 by the double-R, versus 1:31 of the standard Civic Type-R on one of their local test tracks. They had also observed "fractionally higher" speeds on straightaways, with a possible 240 km/h. The main advantage was RR's ability to "carry more speed into the fastest corners."
On a more familiar note, it has also been reported to be 2 seconds quicker than the standard Type-R around the
Tsukuba Circuit
in Japan.
On local roads, the adage of the RR being the harsher, more uncompromising and focused of the two holds untrue, ride wise. Cabin noise, however, is a slight exception. This car manages to be a little louder at all speeds compared to the other Honda. The Mugen machine feels noticeably more stable through corners, and when driven normally, it really isn't hard to punt around in heavy traffic.
So here's the thing - the standard Civic Type-R costs $91,000. The Mugen RR costs s$149,888, over one and a half times as much as the standard FD2.
We don't need to tell you that it's expensive. But consider that when the Mugen RR went on sale in Japan last September, all 300 units were sold in just 10 minutes. Barely-driven RRs have been traded at almost twice their original prices, and it's a small miracle that this example managed to snake its way into Singapore without a more ridiculous price tag.
So is the added pizzaz of the Civic Mugen RR worth the additional premium over standard Type-R? We wouldn't say so. Is it one and a half times faster? Definitely not.
However, in comparing such, one would have missed the point of this car, just like that bottle of Gran Reserva. The red Civic possesses certain singular qualities have not been found in any tuned, reworked FD2. You might be able to make it just as quick, but no amount of tweaking is going to make it feel, and drive the same way. After all, this is THE object of desire for all Type-R connoisseurs far and wide.
A little Mugen for you
Mugen in Japanese, literally translates to mean "Infinite." The name has its roots set deep within the days of the big H. Hirotoshi Honda, son of Honda Motor Company's founder Soichiro Honda, who used his father's workshop to build a racing car while studying at the Nihon University. From then on, Hirotoshi established himself as being the premier tuning solution to high-performance, motorsports products concerning Honda. The company was later restructured in 2003 under the ownership of M-TEC.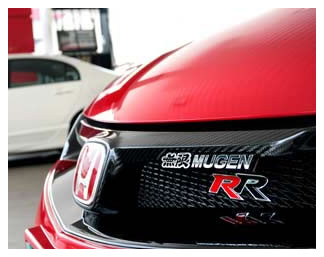 Mugen has never been owned by the Honda Motor Company, despite being owned and run by Hirotoshi Honda, who incidentally, was a major shareholder of Honda since his father's death in 1991.
Ventures went as far as Formula One, where they prepared Honda V10 engines for team Tyrrell in 1991. Their first engine was dubbed the Mugen MF351H, and was relegated to the Footwork team, with drivers Aguri Suzuki and Michele Alboreto.
Since then, Mugen have been producing engines and parts for a variety of high-profile motorsports machines, such as Formula Nippon, Le Mans and Formula 3000. As for everyday, amateur enthusiasts, Mugen has come up with a multitude of bespoke components for many variants of Honda.
They've also ensured exclusivity, such as in the case of the Mugen RR. Wreck one of those black, forged-aluminum wheels, the carbon fibre front air dam, rear aero diffuser, aluminum vented hood or the adjustable carbon fibre rear wing, and you'll have to produce your RR's certificate of authenticity to prove that you own one before you can get them replaced. So, tough luck to those who were thinking of pulling a fast one on fellow Type-R club members!